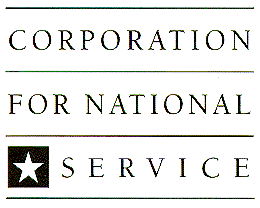 ---
The Corporation for National Service, created by the National and Community Service Trust Act of 1993, engages Americans of all ages and backgrounds in service to their communities. Through its three main programs--AmeriCorps, Learn and Serve America, and the National Senior Service Corps--the Corporation provides a broad range of opportunities for Americans to serve our communities and our nation.

The efforts supported by the Corporation address the nation's challenges in the areas of education, public safety, human needs, and the environment--with a strong emphasis on achieving direct and demonstrable results.
The Corporation for National Service is a new kind of government agency, combining the best aspects of local control with national support. The Corporation operates with a bipartisan board of directors and an entrepreneurial management team and workforce. Programs are selected through a highly competitive process and are held to rigorous quality standards designed to measure impact. The Corporation's programs are supported by public-private partnerships with national and community-based service organizations; corporations and foundations; colleges and universities; and local schools and police districts.
---
For more information, write or call:

Corporation for National Service
1201 New York Avenue N.W.
Washington, D.C. 20525
202-606-5000

---