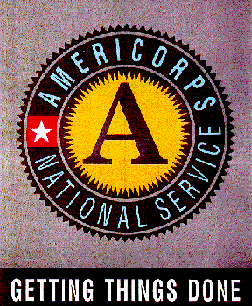 AmeriCorps



AmeriCorps is a new national initiative that involves people of all ages and backgrounds in strengthening America's communities through service. Currently, over 20,000 AmeriCorps members serve full or part-time in more than 350 AmeriCorps programs nationwide. In exchange for service, members receive education awards.





AmeriCorps programs are as diverse as the communities they serve, but they are united by a common mission:




Getting Things Done to help communities meet their education, public safety, human and environmental needs.

Strenthening Communities by bringing together people from all backgrounds to solve problems at the local level.

Encouraging Responsibility through service and civic education.

Expanding Opportunity by helping to make postsecondary education more affordable.
---
Who can be an AmeriCorps Member?

AmeriCorps members are citizens or permanent residents of the U.S. and at least 17 years of age. Terms of service generally run from fall to midsummer. To request information, call 1-800-94-ACORPS (1-800-942-2677) TDD #1-800-833-3722.


---
How do Members afford to do full-time service for a full year?
Full-time AmeriCorps members earn a modest living allowance, roughly equal to minimum wage, and a post-service award worth $4,725 to help pay for higher education or vocational training. Some receive child care and health benefits. Part-time Members receive prorated benefits.
---
How does AmeriCorps benefit communities?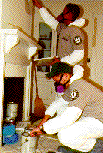 Since December, AmeriCorps Members in rural Kentucky have raised the reading levels of half a county's children. AmeriCorps service produces direct and demonstrable results in American communities. AmeriCorps Members tutor and mentor at-risk youth, organize neighborhood watch associations, provide assistance to crime victims and prevent crime through conflict resolution training. They build affordable housing, help seniors live independently, and immunize children against preventable diseases. They clean up city streets, restore national parks, and provide relief to areas hardest hit by natural disasters.

Beyond the tangible benefits, AmeriCorps helps strengthen communities by bringing together a wide range of community members in both planning and implementing programs: city, state and federal leaders; local businesses and nonprofit organizations; and citizens of all ages and backgrounds.
---
What organizations can apply for AmeriCorps Members' help?

Eligible organizations include those run by nonprofit organizations; institutions of higher education; school and police districts; local, state, and federal governments; and Indian tribes. Interested applicants should contact their State Commission on National Service for application information and materials. For state commission phone listings contact the Corporation for National Service at (202) 606-5000. Application deadlines are in spring.


---
How are AmeriCorps funds distributed?
Two thirds of AmeriCorps funds go directly to State Commissions on National Service, which select local programs. The Corporation distributes the remainder of AmeriCorps funds to national programs and special initiatives through a competitive grants process. AmeriCorps programs are required to demonstrate local support by raising matching funds from businesses and other local sources.
---
Go to Learn and Serve America
Return to Corporation for National Service homepage.