HEALTH
Improving Health Through Research for Better
Medical Care and a Safe and Abundant Food Supply
---
"Our strategy for continuing to improve America's health, safety, and food emphasizes investing in the fundamental research necessary to assure our future well-being, promoting prevention in the areas of both health care and environmental protection, and educating Americans so they can improve their own health and safety decisions."

--President Bill Clinton
---
Improving the health of our nation's citizens continues to be a major goal of our Federal investment in science and technology. Starting in 1862 with the financial support for our Land Grant institutions and State Agricultural Experiment Stations (SAESs), and through the establishment in 1887 of the laboratory that became the National Institutes of Health (NIH), the United States has developed a system of intra- and extramural support for health-related research that is the envy of the world. Clearly, Federal support for biomedical and agricultural research has resulted in enormous improvements in the overall health and well-being of our nation's citizens. Today, average life expectancy of 76 years is 60 percent greater than the typical life expectancy of 47 years nearly a century ago. Much of that increase is due to better food, better sanitation, and medical advances including vaccinations to reduce or eliminate many childhood diseases.


Federal funding for biomedical and agricultural research is multifaceted. Although the primary performers are university and Federal scientists supported by the Department of Health and Human Services (HHS) and the Department of Agriculture (USDA), other Federal agencies, such as the National Science Foundation (NSF), National Aeronautics and Space Administration (NASA), the Environmental Protection Agency (EPA), and the Departments of Energy (DOE), Defense (DOD), Veterans Affairs (VA) and Commerce, sponsor research programs that contribute greatly to improving the health and food security of all Americans.


In addition to improved health, this Federal investment contributes to an economically robust agriculture and health care industry. The production of food and fiber is the nation's largest industry, accounting for about 15 percent of Gross Domestic Product (GDP) and approximately 16 percent of all civilian jobs in the U.S. economy. Our nation's agricultural exports contribute over $100 billion in business activity with a positive trade balance of approximately $20 billion. Likewise, health care and related activities are estimated to account for up to one trillion dollars in annual expenditures in the United States, with 7.4 percent of the U.S. workforce making its living in the health care industry.


Even though our past investment strategy has been enormously successful, the economic, scientific, and social context for future science and technology investments in health has changed dramatically in the last decade. With these changes, it is imperative that we reassess our Federal investments and make changes to reflect new realities.

In health care, major shifts are occurring in the age distribution of the U.S. population. For example, in 1990, 12.5 percent of our citizens were age 65 and older. In 2030 half of the baby boomers will reach 65, resulting in over 20 percent of the nation falling in the 65 and older age category. (U.S. Census Bureau projections). This will increase the prevalence of diseases that are associated primarily with the elderly, such as some types of cancer, Alzheimer's disease, and osteoporosis. Shifts also are occurring in how healthcare is financed, with more and more people participating in managed care programs. We must determine the impact this will have on basic and clinical research that underlies future medical advances. In an attempt to keep down costs of long-term care, as well as improve the overall quality of life, greater attention is now being given to research leading to better methods of preventing diseases.
In agriculture, growing environmental and human health concerns coupled with new trade agreements and commodity price support policies require the federal government to reassess its science and technology priorities and strengthen its partnerships with the states and private sector. In order to keep agribusiness strong and to ensure a safe and reliable food supply, the Federal government must maintain its research investments that produce new knowledge to improve environmental and human health and expand economic opportunities.

In February 1996, President Clinton released a report of the National Science and Technology Council entitled, Meeting the Challenge: A Research Agenda for America's Health, Safety, and Food. This report takes into account the numerous changes that we are experiencing in both health care and agriculture. It offers research strategies to contain health care costs while preserving access to high quality health care services, to develop sustainable agriculture and environmental management, and to contribute to our national security by enhancing international disease surveillance and access to food.


The breadth and diversity of our Federally supported research activities related to improving health range from fundamental research in molecular biology to crop breeding programs for improved pest resistance. This chapter highlights a number of the Administration's accomplishments spanning the breadth of our health-related research portfolio, and describes key areas of opportunity that merit enhanced support consistent with the strategic goals articulated in Meeting the Challenge.
THE ADMINISTRATION'S COMMITMENT
TO BIOMEDICAL RESEARCH
This Administration has strongly backed biomedical research investments. Since 1993, the NIH budget has been increased by $2.4 billion (23 percent), representing significant new investment in biomedical research, in an era of constrained budgets. This commitment recognizes the need for stability to protect our long-term investment in the biomedical sciences. Living cultures or animal strains must continue to be fed, patients enrolled in clinical trials must be cared for, and the search must be continued for better methods for preventing, diagnosing, and treating disease. The Administration continues to sustain this critical investment in order to reap the benefits of better health and quality of life.
NEW APPROACHES TO
UNDERSTANDING DISEASE PROCESSES
Scientific and technological breakthroughs are providing new approaches to solving many of the long-standing mysteries of life and its damaging diseases. We now have very powerful tools, developed through advances in computing, instrumentation, and recombinant DNA techniques, to help us understand what happens when normal biological processes go awry. We are beginning to apply this knowledge to developing ambitious strategies to bolster our natural protection systems and speed recovery. These tools have myriad applications that may lead to new disease treatments and new methods of disease prevention. Learning how healthy cells, organs, and organ systems operate when they are fully functional allows us to attempt to replicate, or add back defective pieces when necessary. For example, radiation or the sun's rays can damage DNA within the cell's nucleus, sometimes leading to skin and other cancers. If we can recreate DNA repair mechanisms, perhaps we may be able to prevent such damage in the future.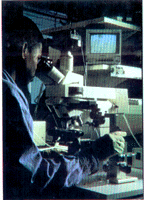 Using tools emerging from the Human Genome Project, an international team tracked the gene for hereditary nonpolyposis colon cancer to a region of chromosome 2. Gene-based therapies may be designed to augment the immune system's response to cancer or to boost the effectiveness of chemotherapeutic agents.


Although disease has always been part of life, certain behaviors and activities associated with the modern world present numerous new health challenges. For example, greater use of modern transportation can rapidly spread infectious disease, unhealthy diets can led to osteoporosis and other diet-related diseases, and smoking can result in cancer and heart disease. A greater understanding of the behavioral factors and related activities underlying many conditions may lead to more effective methods of intervention and prevention.
HIV/AIDS


Acquired immunodeficiency syndrome (AIDS) is now the leading cause of death among Americans aged 25-44. As of June 1995, more than 500,000 cases of AIDS had been reported in the United States. It is estimated that over 20 million people world wide might be infected with the human immunodeficiency virus (HIV). Researchers must answer some very basic questions about how the virus behaves within the context of the human immune system before they can hope to design effective therapeutic and protective measures.


HIV infection is so different from the majority of infectious diseases that scientists must develop innovative and diverse approaches to learning how the virus functions and how the body responds to it. In most cases of infection, the immune system recognizes that a microorganism has invaded or damaged body cells and quickly destroys the intruder. In the case of HIV, however, the target of the virus is a type of cell known as CD4; a part of the immune system itself. CD4 cells are named for a protein receptor on the cell surface which is used by HIV to bind to the cell. Researchers have recently confirmed that the CD4 receptor is not sufficient for the virus to fuse with and infect the immune cells. NIH-supported scientists and others have recently discovered two cell surface proteins, fusin and CCR5, that act as "cofactors," or coreceptors, with CD4 that assist HIV in binding to and infecting immune cells.


These discoveries are important for developing new anti-HIV drugs to block or interfere with the binding of HIV to the receptors. At the same time, they may also explain why some people are seemingly immune to HIV, despite repeated exposure. Scientists have determined that two such individuals had inherited defective genes for a fusion cofactor; in effect, the defect was a lifesaver. HIV was unable to gain entry into the immune system because the cells lacked the needed receptor protein.


NIH-supported basic biomedical research on HIV has allowed researchers to elucidate the viral life cycle and identify three specific enzymes critical to HIV replication. One of these critical enzymes is HIV protease. This enzyme is involved late in the HIV replication process at the stage of viral particle formation, release, and maturation.


X-ray crystallography and structure-based drug design programs have been used to determine both the structure of HIV protease and other molecules that might inhibit its activity. Preventing viral replication would potentially stop the spread of infection from HIV-infected cells to uninfected cells, ultimately halting disease progression in the patient. HIV protease inhibitors are achieving dramatic results in some AIDS patients.
ALZHEIMER'S DISEASE


Alzheimer's disease (AD) already affects four million Americans and that number will increase dramatically as the baby boomers reach the age of highest risk. NIH scientists have identified four genes that play a role in this devastating illness. Defects in either of two of these genes, PS1 and PS2, may be responsible for up to 80 percent of a subtype of AD that strikes before age 65. Recent progress in the field of protein structural biology is being applied to better understand neurodegeneration and other diseases of the aging nervous system, including AD. Sophisticated imaging technologies are being used to develop structural maps and to visualize molecular interactions in the aging brain. Understanding the functional consequences of changes in the 3-D structure of brain proteins has the potential to identify new treatments for AD and other neurodegenerative disorders.
NEW PREVENTIVE STRATEGIES
AGAINST DISEASE AND STABILITY
It is obvious that preventing disease is preferable to treating it after it occurs. Disease and disability prevention offer the patient and the community-at-large better quality of life and the economic benefits attendant to higher productivity. Ideally, prevention measures also incur lower health care costs, as in the case of vaccines. Some prevention measures, such as education, may be more costly or involve greater effort, but the scales are tipped in their favor in terms of societal benefits. For these reasons, prevention research is a high priority and spans the full range of biomedical and behavioral research. The latest technologies, such as protein engineering and recombinant vaccine development as well as social and behavioral sciences, are being put to good use in erecting effective barriers against disease and disability.


Rising health care costs increase the importance of research to prevent disease and minimize the impact of illness and injury. New preventive strategies against disease involve investigations of emerging infections, as well as the prevention and treatment of drug and alcohol abuse. Vaccines against cancer and infectious diseases such as HIV, otitis media (earaches), herpes, chicken pox, pneumococcus, Shigella and Salmonella, are being studied. Prevention also entails the behavioral, genetic, and environmental aspects of risk assessment. The control of transmission of infectious disease by, for example, microbicide or behavioral changes, is an important aspect of prevention research. Prevention research across all stages of life includes reducing and early diagnosis of osteoporosis. In addition, bionutrition, including the genetic basis of eating disorders and pathological consequences of particular diets, has become an important area for study in prevention of disease.
EMERGING INFECTIOUS DISEASES


To ward off pathogenic microbes, we are critically dependent on research to identify infectious diseases and to provide improved drugs and new vaccines. Both basic and clinical research are key, as the speed with which we develop the new antibiotics, new vaccines, and effective treatments will depend upon our understanding of the human immune system and the ever-growing number of pathogens that threaten human health. Research must also focus on the relationships and linkages among disease and climate, eco logical change, population growth, and human behavior.


Since Vice President Gore announced the President's policy directive on emerging infectious diseases (EID) in July 1996 (see vignette on Combating Ebola Hemorrhagic Fever, Chapter 3), the National Science and Technology Council launched a number of new research initiatives. To expand EID research, for example, NIH has funded ten internati onal EID training awards and provided funding to expand four ongoing research and training efforts related to EIDs. The VA and DOD are investing jointly in research on emerging pathogens. NASA is supporting an NIH effort to study emerging viral diseases u sing remote sensing, and the Centers for Disease Control and Prevention are cooperating with NIH on epidemiologic surveys. NIH also has initiated long-term programs to study hepatitis C, hantavirus, the infectious origins of gastric ulcers, and Lyme disea se. NIH and DOD are cooperating on the synthesis and testing of a new drug against the Ebola virus.
BETTER HEALTH THROUGH VACCINES


New recombinant DNA tools, advanced gene transfer techniques, and monoclonal antibody production are greatly improving public vaccination efforts. Vaccines now in development will provide greater protection for our nation's children against a wide range o f infections and will lead to reduced disease and lower health care costs. For example, development of a vaccine against otitis media is under way. Such a vaccine would benefit millions of American children who suffer from this often chronic disease, whic h is responsible for more than $3.5 billion worth of visits to doctors' offices, clinics, and emergency rooms annually.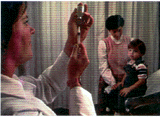 Vaccines are our strongest form of preventive medicine. Scientists supported by the National Institutes of Health have develope d new vaccines for pertussis, rotavirus, and Hemophilus influenzae type b. The latter vaccine provides the means to completely eliminate this disease from the United States in the next few years.


In response to a comprehensive evaluation of the NIH AIDS research program, NIH has established an AIDS Vaccine Research C ommittee, a highly distinguished group of outside advisors in immunology, virology, and vaccinology. The committee, chaired by Nobel Laureate David Baltimore, will address key scientific questions in vaccine development, including new vaccine designs, eff orts to understand the mechanisms of protection in animal models, and potential new targets for vaccines.
---