NATIONAL SECURITY AND GLOBAL STABILITY
Science and Technology Assuring Our Preparedness
and Improving Global Stability
---
"Our nation's security derives from a combination of diplomatic leadership, economic vitality and military might. Advances in science and technology underlie our strengths, promoting stability through engagement, giving rise to new industries, and ensuring that our Armed Forces remain the best trained, best equipped, and best prepared in the world.

--President Bill Clinton
---
As our nation moves into the twenty-first century, we find ourselves faced with greater opportunities for peace and prosperity as well as new challenges to our nation's security and to global stability. The dissolution of a single major military threat has opened new opportunities for broadening peaceful alliances. It has been replaced, however, by an environment in which the dangers are more dispersed and increasingly varied. The accelerating diffusion of information, people, capital, and technology multiplies the paths to greater global prosperity and sustainable growth. However, it also raises the risk of proliferation of advanced weapons, including weapons of mass destruction, and of terrorist acts against the United States. Although the advance of all nations in commerce and trade bears hope for continued economic growth around the globe, increased consumption combined with demographic pressures from the world's expanding population aggravate large-scale environmental and resource degradation, which saps long-term economic strength and undermines political stability. All of these trends mean a greater interdependence among nations, in which the achievement of common interests can be more fully realized, but in which the ripples of negative events can propagate swiftly across the planet. The strategic development and use of science and technology strengthens our ability to meet these challenges.
ENSURING THE NATION'S SECURITY
THROUGH SCIENCE AND TECHNOLOGY
Meeting threats to stability and security requires an enduring commitment to diplomatic engagement, military preparedness, and economic performance. In each instance, our science and technology investments and international cooperation play a key role. For over half a century, scientific discovery and technological innovation have advanced our military capabilities and economic prosperity, strengthening the United States' position as the preeminent world leader.


This Administration's policy for ensuring our national security and global stability rests on a central approach: the prevention of conflict combined with a capability to use force, should it be required. Key to this approach is a priority on engagement with other nations. Rather than contain an adversary, as we did the Soviet Union, we now seek to integrate countries such as Russia, China, and others into a larger political and economic order, creating a web of relationships - including scientific and commercial ties - that give each a shared interest in stability.


Recognizing the importance of a comprehensive strategy regarding our investments in science and technology, this Administration developed in the Fall of 1995 the first ever National Security Science and Technology Strategy. This strategy reflects our conviction that advances in science and technology can play a vital role in our response to the growing array of challenges we face.
SUSTAINING A STRONG
MILITARY CAPABILITY
For decades, possession of superior technology has been a cornerstone of U.S. military strategy. Technologies such as radar, jet engines, night vision, the Global Positioning System, smart weapons, and stealth have changed warfare dramatically. Maintaining this technological edge has become even more important as the size of U.S. forces decreases and high technology weapons become more readily available on the world market. In this new environment, it is imperative that U.S. forces possess technological superiority to ensure success and minimize casualties across the broad spectrum of possible engagements. The technological advantage enjoyed by the United States in Operation Desert Storm, and still enjoyed today, is a legacy of decades of wise investments in science and technology. Similarly, our warfighting capabilities ten to fifteen years from now will be substantially determined by today's investment in science and technology.


Sustained investment in science and technology underlies our ability to succeed in high priority missions, to minimize casualties, to mobilize all of our military services swiftly in coordinated action, to act in concert with other nations to achieve shared security objectives, and especially to help deter potential adversaries from taking hostile steps that would make these responses necessary. New technologies are being developed to strengthen our efforts in counterproliferation, counterterrorism, peacekeeping, and the stewardship of a safe and reliable nuclear weapons stockpile.

As the armed forces prepare to enter the twenty-first century, modernizing U.S. military hardware is a central goal of our defense budget planning. Shown here are artists' conceptions of candidate prototypes for the Joint Strike Fighter. Advanced technologies - materials, propulsion systems, flight controls, weapon system management and systems integration - are at the heart of this next generation fighter and enable its tailored use by the Air Force, Navy, and Marine Corps, advancing performance and reducing development and operating costs.
CHANGING THE FACE OF WAR


New technologies have dramatically enhanced our ability to both prepare for and execute military actions. By supporting advances in information technologies, sensors, and simulation we strengthen our ability to plan and conduct military operations, quickly design and produce military systems, and train our forces in more realistic settings. These technologies are also central to greater battlefield awareness, enabling our forces to acquire large amounts of information, analyze it quickly, and communicate it to multiple users simultaneously for coordinated and precise action. As former Defense Secretary William J. Perry has noted, these are the technological breakthroughs that are "changing the face of war and how we prepare for war."


First and foremost, our defense science and technology program is designed to respond to the warfighting requirements articulated by the Joint Chiefs of Staff and to the mission requirements of the military departments. The Joint Chiefs of Staff's Joint Vision 2010 is the conceptual template that helps the miliof maneuver, strike, protection, and logistics, new and potentially very powerful operational concepts emerge.

Dominant Maneuver. The multi-dimensional application of information and maneuver capabilities to provide coherent operations of air, land, and sea throughout the breadth, depth, and height of the battle space. This approach enables U.S. forces to seize the initiative and control the tempo of the operation to a decisive conclusion.
Precision Engagement. The capability to accurately locate the enemy, effectively command and control friendly forces, precisely attack key enemy forces or capabilities, and accurately assess the level of success.
Full Dimensional Protection. The ability to protect our forces at all levels and obtain freedom of action while they deploy, maneuver, and engage an adversary.
Focused Logistics. The capability to respond rapidly to crises, shift warfighting assets between geographic regions, monitor critical resources en route, and directly deliver tailored logistics at the required level of operations.

These new operational concepts interact to create an overall effect of full spectrum dominance: the capability to dominate an adversary across the full range of military operations. Full spectrum dominance will be a key characteristic of U.S. Armed Forces for the twenty-first century.


The Department of Defense has developed a comprehensive strategy and plan for a focused defense science and technology program that supports both Joint Vision 2010 and the National Security Science and Technology Strategy. The Defense Science and Technology Strategy with its supporting Basic Research Plan, Defense Technology Area Plan, and the Joint Warfighting Science and Technology Plan detail the Defense Department's science and technology vision, strategy, plan, and objectives. They are designed to provide the technologically superior warfighting equipment needed today while preserving and nurturing the technology base on which future combat capability is built.
BASIC RESEARCH: THE FOUNDATION OF DEFENSE
SCIENCE AND TECHNOLOGY


The defense science and technology programs involve both long-term research and near-term applications. By their nature, the end products of long-term research are often difficult to predict, resulting in applications not originally envisioned. Only in hindsight are we able to appreciate all of the military advantages provided by breakthroughs such as radar, digital computers, semiconductor electronics, lasers, fiber optics, and highly accurate navigation systems.
The Department of Defense basic research program has for many decades played a central role in developing the technology and educating and training the scientific personnel needed to maintain superior military capabilities. As a fundamental step in the process of scientific discovery, basic research can have considerable impact on the pace of new developments and the operational capabilities of a broad range of military systems.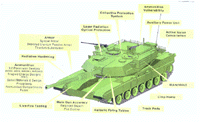 Innovations in basic and applied science and technology by the Army Research Laboratory have resulted in major contributions to the development of the M1 tank. Continued research will further enhance combat capabilities through advances such as high resolution displays, lighter weight structures, advanced gun propulsion, active protection systems, smart kinetic energy penetrators, and advanced vehicle propulsion.


Fully realizing the rewards of basic research, therefore, requires sustained and broad-based investments - a high priority of this Administration. Additionally, an important part of the Administration's defense basic research strategy is to more fully exploit the potential of selected multidisciplinary areas of research that offer significant benefits to our military operations, including the following.

Biomimetics to enable the development of novel synthetic materials, processes, and sensors through advanced understanding and exploitation of design principles found in nature.
Nanoscience to achieve innovative enhancements in the properties and performance of structures, materials, and devices having ultra-small but controllable features on the nanoscale (i.e., tens of angstroms) level.
Smart Structures for modeling, predicting, controlling, and optimizing the dynamic response of complex, multi-element, deformable structures used in land, sea, and aerospace vehicles and systems.
Broad Band Communications to provide for the rapid and secure transmission of large quantities of multimedia information including speech, data, graphics, and video.
Intelligent Systems to enable the development of advanced systems able to sense, analyze, learn, adapt, and function effectively in changing or hostile environments.
Compact Power Sources to improve the performance of power sources through fundamental advances in current technologies (e.g., batteries and fuel cells) and the identification and exploitation of new concepts.

Research accomplishments in some of these fertile areas have already had a significant impact on technology areas such as advanced structures and new classes of sensitive detectors.