A VISION FOR AMERICA'S ENERGY FUTURE

Maintaining a robust and affordable supply of energy while reducing the environmental impacts of energy production and use is vital for our economic prosperity, national security, and environmental quality. America relies largely on fossil fuels, yet emissions from fossil energy use are among the most significant threats to sustainable environmental quality and human health. The consequences of our energy choices are significant and long-lasting:

An appliance or an automobile lasts about 15 years.
Residential and commercial buildings are designed to last 20-30 years or more.
Power plant technologies last 30-40 years.
Increased levels of carbon dioxide persist in the atmosphere for 100-200 years.

Energy-related emissions cause health problems, acid rain, and global warming. They account for more than 90 percent of sulfur-dioxide, nitrous oxides, carbon monoxide, volatile organic compounds, and most of the smallest particulates (those less than 2.5 microns in diameter) emitted by human activities in the United States. More than 50 million Americans live in areas where tropospheric ozone concentrations still exceed safe levels, with significant costs. For example, even though air quality has improved, increased respiratory-related illnesses due to air pollution in Los Angeles are estimated to cost more than $9 billion a year in medical expenses and lost work time.


The burning of fossil fuels has added vast quantities of greenhouse gases such as carbon dioxide to the atmosphere. Temperatures have increased about one degree Fahrenheit over the last century, glaciers are retreating worldwide, and the ten warmest years on record have all occurred since 1980. The current rate of climate change is faster than any experienced in the last 10,000 years. The likely consequences include negative impacts on human health, ecosystems, coastal areas, water resources, and agriculture.


In the past four years, we have made great strides to combat global warming. The government is working with over 5,000 partners in the Climate Change Action Plan to slow the growth rate of carbon dioxide emissions through a variety of means, including: (1) signing voluntary agreements with the bulk of our utility industry; (2) forging partnerships with manufacturer to produce energy efficient computers, buildings, and lighting systems; and (3) developing innovative technologies and strategies in forestry, transportation, and other areas. But reducing the growth rate is not enough; over time, we will have to achieve real emission reductions to reduce health effects, stabilize atmospheric carbon dioxide concentrations, and mitigate the impacts of climate change.


Despite these efforts, national energy use has increased by over 15 percent from 1990. Efficiency improvements have enabled much of this increase to be absorbed without a commensurate increase in pollution. However, it appears that demand growth is now beginning to outstrip efficiency gains. The Energy Information Administration (EIA) estimates that U.S. consumption, driven by continued low prices, will rise more than one third over the next 20 years, with significant continued emissions of carbon. According to the EIA:

New cars bought through 2005 will emit 2,000 million metric tons of carbon (MMTC) over their lifetimes, while using 20 billion barrels of oil.
Electricity technology choices from now to 2005 will result in emissions of more than 1,600 MMTC over the lifetimes of the technologies.

A robust energy future for the United States requires a diverse portfolio of technologies and options that allow us to modify our current energy supply system to include more efficient conversion of fossil fuels, to shift from higher carbon fuels to lower carbon fuels, to increase utilization of renewable energy technologies and, in the longer term, develop nuclear energy options while greatly enhancing energy end-use efficiency. For these reasons, the Administration has consistently recommended budget increases for clean energy research, development, and demonstration.
CREATING A DIVERSE PORTFOLIO


A number of organizations are looking toward the future and seeing a world with a very different mix of energy resources. The World Energy Council has forecast that alternative fuels could meet the bulk of our energy needs by 2050. Royal Dutch Shell, the largest and most profitable oil company in the world, envisions a future in which energy efficiency improves, use of renewable energy sources grows, and fossil fuels peak in the middle of the next century. Chris Fay, CEO of Shell U.K. Ltd., has noted the challenge and the opportunity:

"There is clearly a limit to fossil fuel...but what about the growing gap between demand and fossil fuel supplies? Some will obviously be filled by hydroelectric and nuclear power. Far more important will be the contribution of alternative renewable energy supplies."

Science and technology are an important aspect of meeting this challenge. An integrated environmental/energy R&D strategy is necessary to reduce emissions, reduce impacts, and reduce foreign energy dependency without hurting U.S. economic competitiveness.


Key elements of such a strategy include defining and agreeing on long-term goals, and government-private sector cooperation in developing new technologies and moving hem from the laboratory to the marketplace. We have laid the groundwork for an improved energy system by strongly supporting energy efficiency, renewable energy, fusion power, and pollution prevention R&D to help reduce emissions and create a diverse energy portfolio, and through strong support of industry-government research and development partnerships to stimulate innovation.

The Partnership for a New Generation Vehicle program, described in detail in the Technology chapter, joins the big three U.S. auto makers, Federal agencies, and many suppliers of materials and equipment in an effort to develop a more efficient car.
The Departments of Energy and Agriculture are cooperating on biomass energy research and development, working with private companies to demonstrate power projects for rural development and improve technologies for converting crops to liquid and gaseous fuels, with pilot projects in New York, Minnesota, and Iowa.
In our Building Initiative, a number of agencies are working together in partnership with industry to develop new technologies and practices for building more efficient and sustainable housing.

We are pursuing other renewable options, as well as fusion energy as a long-term alternative within the framework of international collaboration. There are many additional opportunities for progress. Taking advantage of such opportunities remains a fundamental Administration priority.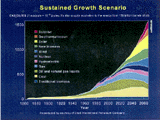 Great global potential exists for renewable energy. This Shell Oil Company forecast shows increasing energy demand, with much greater dependence on energy efficiency and renewable energy technologies and less on fossil fuels. The primary challenge to expanding the role of renewable energy resources is the need to further reduce costs to ensure that competitive renewable energy technology is available in domestic and international markets. This availability depends on sufficient research and development investments now.
LOOKING AHEAD: ENVIRONMENTAL
SCIENCE AND TECHNOLOGY FOR A
SUSTAINABLE FUTURE
The Administration's accomplishments and plans for environmental research and development demonstrate its commitment to sustainability and to defining and implementing the science and technology agenda that will support this goal. We are beginning to apply science and technology in the active pursuit of sustainable environmental quality by assessing, anticipating, and avoiding environmental problems. In addition, we remain committed to improving scientific understanding of fundamental biogeochemical processes. This knowledge can be used to address problems created in decades past from inappropriate, ill-informed, and illegal disposal of toxic chemical wastes.


Instead of looking at environmental problems in isolation, we are adopting a more integrated view of environmental problem-solving that recognizes the connections between environmental issues. We are expanding the traditional single-agency, single-discipline analysis of the environment to a broader multi-agency, multi-disciplinary approach that fosters better collaboration between physical, chemical, biological, social, and economic scientists. Better coordination among Federal agencies is improving the government's effectiveness in addressing environmental problems of national importance and mutual interest. We will continue to refine our strategy, and to build upon the tradition of bipartisan support for the application of science and technology to environmental quality as we pursue the near-term priorities outlined below.
ENDOCRINE DISRUPTORS ASSESSMENT


A growing body of scientific evidence has begun to suggest that a range of chemicals we have introduced into the environment may be producing adverse health effects in humans and in wildlife by disrupting endocrine system function. These chemicals, collectively referred to as endocrine disruptors, exert their effects by mimicking or interfering with actions of hormones. Endocrine Disrupting Chemicals (EDCs) include some pesticides (such as DDT and its derivatives), industrial chemicals (such as surfactants and PCBs), drugs (such as DES), and contaminants (such as dioxins).


Most of the adverse biological effects ostensibly associated with exposure to endocrine disruptors, such as physical and behavioral reproductive dysfunction, have been observed in wildlife populations that received relatively high levels of exposure to persistent chlorinated compounds. It is unclear whether similar, albeit more subtle, effects are occurring in humans or in wildlife populations at lower exposure levels, as insufficient data exist. Reports of possible declines in sperm production in humans over the last four decades - as well as increases in rates of certain cancers that may have an endocrine-related basis (breast, prostate, testicular )-have led to speculation about environmentally mediated endocrine disruption. These observations, coupled with data from controlled laboratory studies on reproductive, neurologic and immunologic effects following exposure to some EDCs, have generated a climate of concern surrounding the potential consequences of exposure to endocrine disruptors. The fact that many of the same hormones and their receptors are present across different species, genera, classes and even different phyla of organisms suggests that effects reported in one species from exposure to endocrine disrupting chemicals could have widespread biological implications. Relative ecological and human health risks are undetermined, however.


Given the widespread distribution and persistence of some EDCs in the environment and the potential for serious effects in human, fish and wildlife populations, a Federal research strategy is being developed through the NSTC. To this end the NSTC established a working group involving 14 Federal agencies to address EDCs as a coordinated national effort. The working group is proceeding through a three-step process designed to (1) develop a research planning framework, (2) conduct an inventory of Federally supported research on endocrine disruptors, and (3) formulate a Federal research strategy.


Since the NSTC identified EDCs as a priority initiative in November 1995, the Working Group has completed a research planning framework, "The Health and Ecological Effects of Endocrine Disrupting Chemicals-A Framework for Planning," which was presented to representatives of national, nongovernmental, and international funding agencies at a public meeting in November 1996. In addition, an inventory of Federally supported research on EDCs was released to the public at that time. The inventory can be accessed on the Internet at http://www.epa.gov/endocrine. It is being expanded to include additional Federal entries, as well as entries from industry and nongovernment organizations. Moreover, the inventory structure developed by the NSTC working group is being used as a model for launching a similar European effort to inventory on-going research on EDCs.
NATURAL HAZARDS INFORMATION AND MITIGATION


This Administration is strongly committed to reducing losses from natural disasters by supporting programs in observing, documenting, understanding, assessing, and predicting the potential consequences of natural hazards. Highly populated urban and metropolitan areas are especially vulnerable to natural hazards, as illustrated by the meteoric rise of government expenditures and private losses in recent years. Natural hazards of terrestrial origin (earthquakes, volcanic eruptions, landslides, tsunamis, hurricanes and other severe storms, tornadoes and high winds, floods, wildfires, and drought) and solar-terrestrial hazards (solar flares and geomagnetic storms) are inevitable. The long-term effects of natural disasters - the lingering disruption of entire communities, persisting long after the event - are determined as much by societal behavior and practice as by nature itself. The impacts of natural disasters can be, at a minimum, mitigated or, in some instances, prevented entirely.


Three major policy emphases are recommended to enable the nation to better meet the challenges posed by natural disasters: (1) anticipate and assess the risk, rather then simply reacting to disasters; (2) focus on a comprehensive approach to mitigation that builds in resilience at the earliest planning stages; and, (3) implement warning and information dissemination systems that allow society to bring its resilience into play. The research agenda to support these objectives includes:

Improving understanding of the physical and biological nature of natural hazards.
Improving understanding of the impacts of natural hazards on human health, ecological systems, and socioeconomic framework (to improve the resilience of these systems to natural variability, particularly extreme events).
Expanding the base of new environmental technologies (especially engineering and technological capabilities for natural disaster reduction).
Improving data management.
Improving assessments of risk with respect to geographical and temporal specificity of risks likely from individual hazards and to cumulative risk associated with multiple hazards.
ASSESSING THE REGIONAL IMPLICATIONS
OF GLOBAL CHANGE


Over the past decade, a series of global environmental changes have been documented in increasing detail. Not only have we demonstrated that climate change, the loss of biodiversity, stratospheric ozone depletion, alteration of the land surface, and changes in the nitrogen balance of the earth's soils and waters are all occurring and changing the environment on a global scale, but we have also established beyond a reasonable doubt that human activities are among the driving sources of such change. We are recognizing that these changes are interrelated, and that they form a suite of multiple stresses affecting people and the earth's ecosystems in numerous ways.


Increased regional-level understanding of the environment and how it is changing is needed to better explain the relationship between multiple stresses, and their effects on ecosystems. Even more importantly, such knowledge is necessary for the design of effective mitigation and adaptation measures. Achieving this enhanced understanding requires a number of changes in the U.S. Global Change Research Program, and we are cooperating with the participating agencies and the science community to incorporate the following approaches into our long-term research strategy.


Regionally Resolved Estimates of the Timing and Magnitude of Climate Change: The earth is a complex system with physical, chemical, and biological processes interacting on a wide range of temporal and spatial scales. For example, human-induced increases in atmospheric carbon dioxide are causing climate change, and are also likely to have a direct biological impact manifested as changes in the extent and distribution of the earth's vegetative cover. This, in turn, affects hydrology and surface albedo and could further affect climate. Direct experiments involving these complex interactions and feedbacks, which would yield reliable predictions of future climates, are not possible. Instead, scientists must depend on simplified predictive models of the climate system.


The resolution of these models needs to be improved to make them more useful for work on the ecological, economic, and social consequences of climate change. They must be able to simulate natural phenomena on scales of tens rather than hundreds of kilometers. Achieving this improvement involves theoretical and practical challenges. The theoretical challenges to the down-scaling involve a range of issues including how to deal with cloud physics and how to represent the effects of highly variable topography on climate. The practical challenges are focused around the issue of enhanced computational power.


Regional Analyses of the Consequences of Climate Change Alone and in the Context of Other Pressures on Ecosystems: Decision makers, including resource managers, business people, and politicians, as well as the general public want to know what the consequences of climate change will be for their regions. They have a keen interest in the potential connections between climate change and the frequency and magnitude of disturbances. Some of the regionally specific questions being asked about disturbance include: Will wildfire frequency and severity increase in the southwestern United States? Will the frequency and severity of droughts change in the Great Plains? Will the number and extent of severe floods increase in the upper Mississippi Basin? Will the eastern seaboard be subject to more frequent and severe tropical storms and hurricanes?


Disturbances like fire, drought, floods, and strong winds can, in turn, affect the function and structure of land and water ecosystems. Properties of ecosystems that humans value, such as plant productivity, carbon-storage capacity, and species composition may change in response to climate change. Scientists do not yet have the capacity to predict these changes with confidence. To do so will require the study of complex interactions among ecological processes through long-term monitoring activities, large-scale field manipulations, and simulation modeling efforts.


Integrated Assessment Methods: Global climate change is the subject of wide-ranging debates, intense negotiations, and policy decisions that have the potential to reach into many aspects of society. There is a pressing need to support these processes with careful analyses that focus on predictions of causes and effects of climate change through efforts that bring together the physical, biological economic, and social sciences. Forecasts of concentrations of greenhouse gases and atmospheric aerosols, which are integral to climate analyses, must consider the forces of economics and technology that drive and control emissions. In turn, assessments of possible ecological and social impacts, and the analyses of alternative strategies for adaptation and mitigation, need to be based on careful climate science that takes into account its own uncertainties.


This challenge of integrated assessment of climate change is beginning to be approached through a coupled-model framework. The components of this framework vary among extant integrated assessments, but often include an economic model for analyses of emissions of greenhouse gases and aerosol precursors, atmospheric chemistry and general circulation models, and models of natural and managed ecosystems for analyses of consequences of climate change. At present, models describing complex nonmarket societal decisions are generally not included in the coupled-model framework. The existing integrated assessment models all run at the global scale, but also are regionally resolved. The challenge is to refine the integrated assessment concept and to make the results of this work available to decision makers.