TECHNOLOGY
The Foundation for Our Future
Economic Growth and Prosperity
---
"Investing in technology is investing in America's future: a growing economy with more high-skill, high-wage jobs for American workers; a cleaner environment where energy efficiency increases profits and reduces pollution; a stronger, more competitive private sector able to maintain U.S. leadership in critical world markets; an education system where every student is challenged; and an inspired scientific and technological research community focused on ensuring not just our national security, but our very quality of life."

--President Bill Clinton
---
Technological leadership is vital to the national interests of the United States. As we enter the twenty-first century, our ability to harness the power and promise of leading-edge advances in technology will determine, in large measure, our national prosperity, security, and global influence, and with them the standard of living and quality of life of our people.


The United States has an unmatched capability for technological innovation - an unparalleled R&D enterprise; a world-class cadre of scientists and engineers; the world's most diverse manufacturing base and productive workforce; a broad and technologically sophisticated service sector; and a climate and culture that encourage competition, risk-taking, and entrepreneurship. These assets have positioned the United States to maintain its global technological leadership in the 21st century.


TECHNOLOGY AND THE U.S. ECONOMY


Technology is the single most important determining factor in sustained economic growth, estimated to account for as much as half the nation's growth over the past 50 years. In fact, America's research-intensive industries - aerospace, chemicals, communications equipment, computers and office equipment, pharmaceuticals, scientific instruments, semiconductors, and software - have been growing at about twice the rate of the economy as a whole over the past two decades.


The performance of individual companies - the agents through which economic growth occurs - is strongly linked to their use of technology. A recent Department of Commerce analysis shows that the use of advanced technologies enhances manufacturing in virtually every important performance category. Firms that use advanced technologies are more productive, profitable, and pay higher wages. Between 1987 and 1991, employment at plants that used eight or more advanced technologies grew 14.4 percent more than plants that used no advanced technologies, and production workers' wages were more than 14 percent higher.


Technology is transforming the very basis of competition - enabling small businesses to perform high-quality design and manufacturing work that previously required the resources of big business, while allowing big businesses to achieve the speed, flexibility, and proximity to customers that were once the sole domain of smaller firms. Technology provides the tools for creating a spectacular array of new products and new services. It is creating new industries - advanced materials, mobile cellular communications, electronic commerce - and revitalizing old ones like steel, automobiles, and textiles.


In today's highly competitive global marketplace, technological leadership often means the difference between success and failure for companies and countries alike.

TECHNOLOGY AND AMERICA'S
QUALITY OF LIFE

New technologies are improving the quality of life for all Americans. Medical research in pharmaceuticals, biotechnology, and medical devices helps us lead healthier lives and offers new hope for the sick. Environmental research brings better monitoring, prevention, and remediation technologies. Advanced monitoring and forecasting technologies - from satellites to simulation - are helping to save lives and minimize property damage caused by hurricanes, blizzards, microbursts, and other severe weather. Sophisticated traffic management systems for land, sea, and air transportation enable the smooth and timely movement of more people and goods.


Agricultural research is producing safer, healthier, and tastier food products. Automobile research is providing safer, cleaner, energy efficient, and more intelligent vehicles. Aeronautical technology is making air travel safer, less costly, and more environmentally compatible. Energy research is helping to deliver cleaner, renewable, and less expensive fuels. And information and telecommunications technologies have enabled instantaneous communications around the globe.

THE FEDERAL MISSION

For more than 200 years, the Federal government has played a vital role in developing a scientific and technological infrastructure that has substantially contributed to U.S. economic growth and to the competitive success of American industry. Federal research has given birth to new industries, such as computers and biotechnology, and propelled U.S. firms into a leadership position in other industries, including agriculture, aerospace, telecommunications, and pharmaceuticals. Federal research has also made possible many other contributions to American life - from better tasting frozen orange juice and highly absorbent disposable diapers to vaccines for malaria and closed-captioned television for the deaf.


In addition, Federally funded technology has played - and continues to play - a central role in meeting vital Federal missions. It has protected our shores and the soldiers, sailors, and airmen who defend them; it has taken Americans to the moon and brought them safely home again; and it is increasingly vital to the delivery of government services to our citizens.

EMERGING TECHNOLOGY ISSUES

The Administration's technology programs reflect the challenges and opportunities as a new century begins.

THE INFORMATION AGE

No technology promises to affect our world more profoundly than the rapid sweep of digital technology. Every sector of our economy - manufacturing and services, transportation, health care, education, and government - is being transformed by the power of information technologies to create new products and services and new ways to communicate, resulting in significant improvements in productivity and knowledge sharing.


For most of this century, our competitiveness and ability to create wealth have been based on how well we manipulate our human, technological, and material resources. Today, however, our global competitive standing depends increasingly on our ability to create knowledge and the speed with which we put that knowledge to work.


The emergence of the Information Age has created new challenges that are pressing at the forefront of government policy. Important issues include: fair rules of competition, the protection of intellectual property, the security of business transactions in electronic commerce, individual rights to privacy, law enforcement investigation, upgrading the skills of the American workforce, and integrating information technologies into the education system and the delivery of government services. The Clinton Administration has actively addressed these issues and enabled Americans to enjoy the benefits of rapid and full use of information technologies - economic growth and job creation, higher standards of living, and improved quality of life.

GLOBAL INVESTMENTS

Technology has become a global enterprise and the United States faces tough competitors worldwide. Support for research and technology development remains strong in the advanced industrial nations, such as Japan and countries of the European Union. In July 1996, for example, the Japanese Cabinet approved a proposal to spend $155 billion on government science and technology programs over the next five years - of this sum, 95 percent is targeted at civilian technologies. If these plans are implemented, Japanese government expenditures on civilian R&D will soon exceed U.S. funding in absolute terms.


While science and technology in Europe and Japan will continue to be important to the United States, a number of rapidly growing, newly industrializing countries have set their sights on joining the ranks of the world's technological leaders. Several Asian countries - including South Korea, Taiwan, China, Malaysia, and Indonesia - are rapidly developing technical capabilities that will enhance their competitive position in global markets. Many industrializing countries are emphasizing the development of indigenous technological capabilities - increasing R&D investments, establishing research institutes and key technology programs, forming government-industry partnerships, boosting technical manpower development programs, modernizing key manufacturing sectors, and planning for information superhighways.


For the last 50 years, America's view of competition in high technology focused primarily on Europe and Japan. We must now account for a more dynamic global technology enterprise in which many nations are increasingly able to participate.

SHIFTS IN THE NATION'S R&D PORTFOLIO

For much of this century, America's premiere private sector laboratories played a major role in the advancement of new technologies in their early stages. Today, however, competitive pressures have driven many companies to emphasize near-term product development and process improvements that support their market strategies and the bottom lines of their business units. This kind of R&D focus has proven successful for many companies in the short term, however, it comes at the expense of basic and applied research, and threatens to reduce the pool of enabling and emerging technologies from which our country must draw in the future to remain competitive.


The Federal government's technology partnerships with industry are designed to ensure that the United States has a rich base of key technologies to serve as building blocks for new products and services, new industries, and technology-driven productivity gains in the twenty-first century.

THE FEDERAL GOVERNMENT'S R&D BUDGET

The Administration has taken care to develop plans to balance the Federal budget without compromising our nation's investments in the future. We recognize that our ability to achieve an array of social goals and maintain our standard of living requires a strong economy that depends on sustaining the Federal investment in R&D. Historically, these investments have led to many of the new ideas, insights, and innovations the private sector needs to generate growth and jobs.
While the FY 1996 Federal R&D budget is conventionally reported as $71 billion, this figure includes approximately $31 billion which the Department of Defense (DOD) spends on highly specialized development of specific weapons systems. Federal investment in research and development - that could accurately be termed the science and technology base - is only about $40 billion. Of this $40 billion Federal investment in science and technology, more than a fourth ($12 billion) is spent for health-related R&D, leaving $28 billion to invest in research and development to support every other field of science and technology - physics, environment, energy, mathematics, aerospace, electronics, computing, communications, materials, software, simulation and modeling, agriculture, and more.


The Administration recognizes that this part of the nation's R&D investment is most likely to yield economic benefits and meet a wide range of social goals beyond health and defense.

PRESIDENT CLINTON'S TECHNOLOGY POLICY

In February 1993, President Clinton set forth his vision for a national technology policy in Technology for America's Economic Growth: A New Direction to Build Economic Strength. This policy - a core element of the Administration's strategy for long-term economic growth - outlines measures to ensure America's global technological leadership into the next century.


The technology policy set forth by the Administration is guided by these principles:

We must retain a long-term commitment to research, education, and innovation even in this period of budgetary constraint.
The primary role of the Federal government in technology policy is to create a business environment in which the innovative and competitive efforts of the private sector can flourish.
The Federal government must encourage the development, commercialization, and the use of civilian technology.
The Federal government must help create a world-class infrastructure for the twenty-first century to support U.S. industry and promote commerce.
The United States must develop a world-class workforce capable of participating in a rapidly changing, knowledge-based economy. This goal is addressed in the chapter entitled "Human Resources."

These initiatives will help ensure that technology remains our engine of economic growth, creating high-wage jobs in the United States and improving the standard of living and quality of life for our people.


CREATING A HEALTHY BUSINESS ENVIRONMENT


The primary role of the Federal government in technology policy is to create a business environment in which the innovative and competitive efforts of the private sector can flourish. This role includes eliminating unnecessary legal, regulatory, and economic barriers to the development and commercialization of new technologies; assessing the impact of proposed laws and regulations on U.S. competitiveness; and developing new policies that foster innovation.


ECONOMIC POLICY. Fiscal policies affect the cost and availability of capital that firms need to invest in technology, product development, and manufacturing. By cutting the deficit and balancing the budget, government borrows less, freeing capital for these private sector investments. The Clinton Administration has made great strides in reducing the Federal budget deficit and has proposed a viable plan to balance the budget while maintaining our investments for the future in areas such as science, technology, training, and modern infrastructure. The Administration proposed permanently extending the research and experimentation tax credit in 1993 to provide an incentive for American firms to invest in the new technologies that will underpin tomorrow's products and services. The Administration continues to support the credit and has proposed working with Congress to extend it.


REGULATORY POLICY. The Administration has taken care to reform Federal regulations in a way that achieves goals in the environment, public health and safety, consumer protection and other areas with the lowest possible burden to businesses. The Administration has already instituted reforms that streamlined regulatory paperwork and eliminated unnecessary regulatory barriers. It has worked to ensure that regulations encourage, instead of stifle, the development of innovative technologies which can meet both public and business objectives.
For example:

In 1993, President Clinton signed legislation amending the 1984 National Cooperative Research Act to reduce antitrust barriers to joint production ventures, offering U.S. firms a new way to cope with the escalating cost of establishing production facilities.
In March 1995, the President and Vice President launched the "Reinventing Environmental Regulation" initiative to make environmental protection work better and cost less. The initiative contains 25 priority actions to both improve the existing environmental protection system and build the foundation for a fundamentally new performance-based system.
In April 1995, the National Institutes of Health (NIH) dropped the "reasonable pricing" clause from its cooperative research and development agreements, a provision seen by industry as a significant barrier to partnership with NIH.
With the passage of the Telecommunications Act of 1996, the United States took a bold step into the future. These reforms will unleash a wave of investment, creativity, and new technology that will spur growth, create jobs, and revolutionize our lives in ways we cannot imagine today.
TRADE POLICY. The Administration has also placed heavy emphasis on ensuring fair competition for U.S. technology products in international markets. Fair access to world markets is essential for most technologically innovative U.S. firms. Export controls on key telecommunication, supercomputer, and other products have been rewritten in ways that open billions of dollars worth of international markets to U.S. high-technology firms.


The North American Free Trade Agreement (NAFTA) and the General Agreement on Tariffs and Trade (GATT) play critical roles in ensuring fair treatment for U.S. technologies in global markets. NAFTA creates the highest standard any international agreement has provided for protection of patents and other intellectual property. The Trade Related Aspects of Intellectual Property, an accord reached under GATT, raised the standard of protection for copyrights, trademarks, patents, industrial designs, and trade secrets for members of the World Trade Organization.


GATT also provides protection against foreign governments that attempt to give their companies an unfair advantage by directly subsidizing late-stage technology development. It ensures efficient operation of free international markets by permitting government support of industrial R&D only through the pre-competitive stage of non-manufactured prototypes.

TECHNOLOGY DEVELOPMENT
AND COMMERCIALIZATION

The Federal government must encourage the development, commercialization, and use of technology. It must invest in nascent technologies that offer large economic and social returns to the nation. Federal policy must ensure that the fruits of Federal research extend beyond government and help U.S. firms create high-wage jobs and national economic growth. And the Federal government -in partnership with state and local governments, the academic community, and the private sector -can continue to cultivate a range of mechanisms that encourage widespread deployment and use of technology.

FEDERAL TECHNOLOGY PARTNERSHIPS. During the past decade, the process by which Federally funded technology makes its way to the private sector for commercial use has been substantially improved. In addition to technology spin-off - in which technology developed to meet Federal mission requirements is later adapted for commercial markets - the Federal government is now working hand-in-hand with industry, combining resources to achieve common technology objectives.


The 1986 Federal Technology Transfer Act established the framework for partnerships between Federal laboratories and the private sector. In 1996, Congress gave private sector partners greater assurances about retaining the intellectual property rights from these partnerships. Federal agencies and their laboratories have worked diligently to make technology transfer to the private sector an integral part of their laboratory functions. These efforts have paid off. Today, 13 Federal agencies are engaged in more than 3,500 cooperative research and development agreements (CRADAs) with the private sector, an increase of 177 percent since 1992. Between 1992 and 1994, the number of licenses on Federal patents granted to industry nearly doubled, and licensing royalties paid to the Federal government jumped 77 percent to a record $24.5 million annually.


Federal laboratories have reached out aggressively to the private sector, forming alliances that allow industry and government to bring complementary assets to bear on research in areas of mutual interest. Although enabling and emerging technologies are the fundamental building blocks for future economic growth, individual companies may be unable to develop them in a competitive time frame (if at all) due to their high cost, high risk, and delayed returns on investment. Consequently, the Federal government must share the burden of the applied research necessary to bring these technologies to market.

ADVANCED TECHNOLOGY PROGRAM. The Commerce Department's Advanced Technology Program (ATP) addresses the problem of developing enabling and emerging technologies by sharing the costs and risks with the private sector. ATP forms partnerships with companies and joint ventures that have the greatest potential for meeting the primary objective of the program: developing technologies to achieve broad-based economic benefits with high rates of social return for the nation.


While government provides the catalyst, industry conceives, co-funds, and executes ATP projects. Specific R&D projects are selected from proposals submitted by industry, and all awards are made through a competitive merit-based selection process that evaluates technical and business merit. Industry is also the source of ideas for particular technology areas that offer important opportunities for economic growth. These are multi-year efforts aimed at specific, well-defined technology and business goals. By managing groups of projects that complement each other, the ATP fosters synergy and, over the long run, can have a strong impact on the U.S. technology base and the economy.


The Advanced Technology Program has supported a number of near-term accomplishments.


The Auto Body Consortium (ABC): A 1992 ATP award catalyzed the formation of this partnership involving a group of eight small- and medium-sized automobile technology suppliers, together with Chrysler, General Motors, and two universities in the "2 mm Program." They have developed new manufacturing technologies, practices, and training techniques capable of controlling variations in the fit of automobile body parts to 2 millimeters - about the thickness of a nickel - or less. The ABC technologies are not only effective, they are "agile" - readily adapted to other industries involved with the automated assembly of sheet metal parts. These technologies have been implemented at several assembly plants - already resulting in significant improvements in customer satisfaction scores.


Tissue Engineering, Inc., a Massachusetts company, received an ATP award for developing technologies at the leading edge of tissue engineering - integrating advances both in cellular biology and textile manufacturing. The company has created "prosthetic tissue" manufactured like cloth for biodegradable implants. This project has already resulted in a whole new range of reconstructive treatments for damaged periodontal, orthopedic, skin, and vascular tissues and created a line of early spin-off products for the research and testing markets.


Diamond Semiconductor Group (DSG)) credits the ATP with helping the company attract outside development capital from Varian Associates for a prototype ion-implant machine for semiconductor manufacture. DSG and Varian Associates were able to announce, early in 1996, an "industry first" - successful ion-implantation of a 300-mm wafer (the next-generation semiconductor wafer size) using the new technology.


Nanophase Technologies Corporation (Burr Ridge, Illinois), a small start-up company (two people), received an ATP award to develop an innovative process for producing ultra-fine ceramic and metal powders at the nanometer scale for applications ranging from skin-care products to high-performance engine parts. The ATP research enabled the company to attract support from major industrial organizations and venture capital firms, who furthered commercial development. The company has launched new products, and negotiated an agreement with Merck for international distribution of one early product. The company has opened the world's first facility devoted to commercial-scale production of nanocrystalline materials, and expects to employ several hundred workers within the next two years.


Accuwave, a 12-person California company, received a 1992 ATP award that enabled it to extend its new technology (which uses laser holography to "write" very high-resolution optical elements such as filters into the interior of crystals) to the rapidly growing fiber-optics communications industry. In 1994, the company introduced three new products that were early spin-offs of the ATP-sponsored technology: an optical network monitor, a wavelength standard, and a "wavelength locker." In 1995, Accuwave began selling these products to major telecommunications companies in the United States, Japan, and Europe. Since then, it has been developing a wavelength division multiplexing system based on the core results of the ATP project.

AERONAUTICS. Aeronautical research and technology play a vital role in promoting U.S. economic growth and national security. The challenges facing this $15 billion industry include growth in air traffic, demanding environmental standards, an aging aircraft fleet, and foreign competition. The continued safety and productivity of the nation's air transportation system and future U.S. competitiveness in aeronautics depend on national investments in aeronautical research and technology.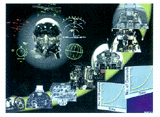 The jet fighter cockpit is one of the most complex workplaces for any human operator. Early WWI combat aircraft contained only the most basic flight instruments, but the number of controls and displays has risen dramatically over the years. Today, a combat pilot has to integrate a tremendous number of discrete pieces of information into a complete "picture' of the battlefield in order to successfully accomplish the mission. The next generation of cockpit technology will include Helmet Mounted and Wide Area Displays that will automate the data fusing process for enhanced battlefield awareness and aircraft operability.


To help meet these challenges, the National Aeronautics and Space Administration's (NASA) Aeronautics Enterprise identifies and develops high pay-off aeronautics technologies, and helps commercialize successful applications. This enterprise works closely with U.S. industry, universities, the Department of Defense, and the Federal Aviation Administration to coordinate R&D investments and to ensure that NASA's technology products and services add value and are developed to the level at which customers can confidently make decisions regarding the applications of those technologies. Additionally, under the Space Act, NASA has established more than 3,500 partnerships with industry.
Other aviation innovations on the horizon include:

Information technologies that can dramatically decrease the time and cost of designing aircraft, reducing time to production by 30 to 50 percent.
The use of global positioning satellites, advanced computers and sensors onboard the aircraft, and a new generation of digital communication technologies to revolutionize air traffic control and lead to major improvements in air safety.
New Air Traffic Management (ATM) technologies emerging from NASA's research and jointly developed with the FAA will reduce en route flight restrictions by 90 percent and safely increase landing rates under low visibility conditions by 25 percent.
Improved air traffic management can make a major contribution to energy efficiency and environmental goals. Industry estimates that airlines worldwide will save as much as $5 billion annually in fuel and other costs when this capability is fully implemented in conjunction with other evolutionary improvements in air traffic management capabilities.
PARTNERSHIP FOR A NEW GENERATION OF VEHICLES. In the Partnership for a New Generation of Vehicles (PNGV), seven Federal agencies and 20 national laboratories have partnered with the Big Three automobile manufacturers and more than 400 suppliers to achieve R&D goals in three areas: advanced manufacturing methods; technologies that can lead to near-term improvements in automobile efficiency, safety, and emissions; and research that could lead to vehicle prototypes with a threefold improvement in fuel efficiency. These super-fuel-efficient family-sedan-size vehicles should cost no more to own or operate than today's cars; offer comparable performance, roominess, and utility; and meet or exceed all safety and emissions standards.
PNGV has the potential to boost economic growth and meet important national goals. Because one in every seven jobs in the United States is automotive related, global competitiveness of this industry is extremely important to our economic well-being. PNGV will benefit the U.S. automotive industry by establishing manufacturing processes that are less costly and produce higher quality products. In addition to improving the competitiveness of the industry and preserving American jobs, PNGV aims to reduce our country's dependence on foreign oil and ensure a cleaner environment.


Significant progress has already been made toward PNGV goals. In 1996, each of the Big Three U.S. automakers produced a PNGV vehicle that demonstrated various "Supercar" possibilities. At the 1996 Detroit Auto Show, both Ford and Chrysler released their PNGV experimental concept cars - Ford's Synergy 2010 and Chrysler's Intrepid ESX. And in December 1996, General Motors introduced the industry's first electric car, the EV1, which incorporates a range of PNGV technologies.


In July 1996, PNGV and USCAR - the precompetitive research consortia representing Ford, Chrysler, and General Motors in the PNGV program - released the PNGV Technical Accomplishments report which details the significant progress of PNGV in fuel cell system development, advanced battery chemistries and other energy storage devices, and new manufacturing processes. Most recently, in January 1997, Chrysler announced that it will develop a vehicle prototype that uses PNGV-developed gasoline fuel cell technology.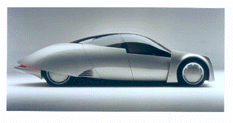 The Partnership for a New Generation of Vehicles is a cooperative effort between the Federal government and the automobile industry to foster breakthrough technologies in personal vehicles. The goal is a production prototype vehicle capable of 80 miles per gallon by 2004. The program has identified areas of technical potential to reduce vehicle weight by 40 percent, to more than double energy conversion efficiency, and to lower aerodynamic drag and rolling resistance by up to 30 percent. This Ford Synergy 2010, a new concept car exploring the technological frontiers, was unveiled in Detroit at the 1996 North American International Auto Show.