SCIENCE: THE ENDLESS RESOURCE
Underpinning Our Nation's Economic Well-Being,
Health, and National Security
---
"Cutting back on research at the dawn of a new century where research is more important than it has been for even the last fifty years would be like cutting our defense budget at the height of the Cold War."

--President Bill Clinton
---
Throughout time, humans have pondered the nature of the universe and the laws that order it, seeking to understand our world and our place in the cosmos. Curiosity and the quest for understanding punctuate all human growth and learning, beginning with our childhood questions: "What is it?" "How does it work?" "What happens if . . . ?" Basic (or fundamental) research seeks to answer these and other questions in all scientific fields. Basic research usually does not have a specific practical benefit in mi nd; it simply helps us understand the way things are and generates new ideas and questions about the unknown. It has taught us about the evolution of the physical universe, the evolution of life, and a wealth of other topics.


Inevitably, however, the results of basic research are prerequisites for many advances that substantially improve our lives. No one could anticipate that:

early studies of the DNA molecule would lead to genetic engineering to develop new and effective drugs, more productive crops, and more nutritious foods;
ultra-precise atomic clocks invented to test the laws of physics would become the heart of the Global Positioning System - now a multi-billion-dollar business used for navigat ion, emergency rescue, tracking commercial vehicles, and perhaps soon for air traffic control;
basic research on the way liquids pass through holes would lead to improved fuel injection systems for cars, ink-jet printers, and artificial heart valves;
basic studies of the attitudes and behaviors of tens of millions of military personnel over decades would lay the foundation for many of today's high-performance business management practices;
engineering experiments on microelectromechanical systems would create a billion-dollar industry providing acceleration sensors for automobile air bags, and many other products;
fundamental research on magnetism would transform our society, making our information age possible through tape recorders, video cassette recorders, and everything else that records and stores information; or
decades of research in basic physics and chemistry would provide the sophisticated tools essential for molecular biology, genome sequencing, and advanced medical diagnosis and treatment.

Although it is virtually impossible to predict specifically how today's basic research results will eventually improve our quality of life, or to imagine the new industries and markets that will eme rge, there is no question that such improvements and industries will arise. America's scientists and engineers are working in universities, industrial laboratories, research institutes, and national laboratories on important research. Their results will t ransform our lives in the twenty-first century, just as we now reap the harvest from past discoveries. Our children and grandchildren will look back with the same wonder we experience today at the myriad ways frontier basic research has advanced society.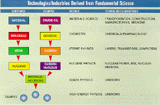 Basic science studies matter at all levels of aggregation, from the materials we experience everyday down to their most fundamental constituents. This progress leads to new scientific and technical knowledge and, years later, to innovative prod ucts and lucrative commercial markets. These advances have generated millions of high-skilled, high-wage jobs and significantly improved the quality of life for Americans.


The Administration's commitment to basic research derives from a clear and positive vision for the future prosperity of our nation and a strong belief that by creating knowledge and a well-educated citizenry, we gain the power to shape our future. Therefore, the Administration has championed Federal investments in science and technology, stressing repeatedly that science fuels technology's engine - the engine of economic growth that creates jobs, bu ilds new industries, and improves our standard of living. Moreover, a significant component of Federally sponsored research is performed in colleges and universities, where young scientists and engineers are trained in the process of creating new knowledg e.

OUR NATIONAL GOALS FOR SCIENCE

To advance America's interests in science, mathematics, and engineering, the Administration set forth the following goals in its 1994 science policy statement, Science in the National Interest:
To sustain leadership across the frontiers of scientific knowledge.
To enhance connections between fundamental research and broad national goals.
To stimulate partnerships that promote investments in fundamental science and engineering and effective use of physical, human, and financial resources.
To produce the finest scientists and engineers for the twenty-first century.
To raise the scientific and technological literacy of all Americans.

Achieving these goals will ensure that our nation has the specialized human resources as well as the modern infrastructure needed for cutting-edge science and technology. The science and technology enterprise weaves a vast and variegated fabric of knowledge, ideas, devices, and questions that covers a broad range of human curiosity and innovation.


This report is organized around these science policy goals, and this chapter focuses on leadership in the generation of fundamental knowledge that defines basic science. The chapters on technology, health, environment, and national security capture the partnerships and connections that harness new knowledge, helping us reach those overarching national goals. The chapter on human resources addresses the production of the world's best scientists and e ngineers, and the need to improve public literacy in science and technology.

SUSTAINING LEADERSHIP ACROSS THE
FRONTIERS OF SCIENTIFIC KNOWLEDGE
Leadership across the frontiers of scientific knowledge is not merely a cultural tradition of our nation - today it is an economic and security imperative. Creative people working in diverse fields generate new knowledge - rich in wonder and often leading to unexpected applications. The range of our research spans all major fields of science and engineering and is one of its most powerful attributes.


There is a solid consensus that maintaining the human resources and modern infrastructure essential for scientific leadership is a fundamental Federal responsibility. Thus, public funding of researc h and development traditionally has enjoyed strong, bipartisan support. Government investments provide world-class facilities, promote scientific breakthroughs and interdisciplinary linkages among the major science and engineering fields, and train talent ed people to tackle emerging scientific challenges. As corporate R&D laboratories have increasingly favored applied research and development projects likely to improve competitiveness in the near term, the Federal government has become the dominant sponso r of the nation's long-term, basic research portfolio. The Administration has embraced this role by continuing to support the basic science programs of the National Institutes of Health (NIH) in the Department of Health and Human Services (HHS), the National Science Foundation (NSF), the Department of Energy (DOE) , and the National Aeronautics and Space Administration. These programs are vital to our nation's future, as are those at the Department of Defense (DOD), and the Departments of Agriculture (USDA), Com merce (DOC), Interior (DOI), and other Federal agencies with targeted missions. Between FY 1993 and the Administration's FY1998 budget request, Federal investment in basic research has risen from $13.36 billion to $15.30 billion - an increase of 14.5 percent.


This diversity of Federal sources of research funding and the rich variety of institutions and organizations conducting the research are two of the strengths contributing to U.S. leadership across t he scientific frontiers. Universities and colleges - where education proceeds synergistically with the creation of new knowledge - consistently perform about one-sixth of all Federally funded R&D, and over half of our basic research. Federal laboratories, nonprofit research institutes, and industrial firms are also major players. The laboratories of DOE, NIH, NASA, and USDA, particularly, are deeply integrated into America's fundamental science enterprise in their mission areas. Rich in human talent and e ngineering capability, these Federal laboratories are renowned for unique, state-of-the-art scientific facilities, instruments, and other resources, operated for and made available to the national scientific community. Of course, a major component of the R&D portfolios of these laboratories, as well as those of DOD, DOC, and other agencies, serves their overriding missions to ensure national security, and to promote technological progress, health, environmental quality, and food supply as described in the other chapters of this report.


Most important, the people actively engaged in the quest to understand the unknown power our innovation system. They recognize, pursue, and exploit breakthroughs, no matter where in the world they a re made. For example, in the mid-1980s European scientists discovered high-temperature superconductors. Immediately, American investigators with the requisite expertise turned their energies with great success to extending and exploiting this discovery, both in te rms of fundamental understanding and engineered applications.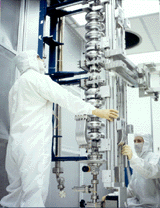 Scientific breakthroughs spur new technologies that, in turn, enable improved scientific capabilities to explore the unknown. It was not until the mid-1980s that physics understanding, niobium purity, and ultraclean manufacturing and processing techniques made it feasible to build a superconducting electron accelerator needed to explore the innermost structure of the atom's nucleus. The world's largest assembly of superconducting accelerator cavities is now at the Department of Energy's Thomas Jefferson National Accelerator Facility in Newport News, Virginia.
Given the growing linkages among the scientific and technical disciplines, it is impossible to predict what expertise will be indispensable for future developments. As with any investment portfolio, certain areas will be emphasized at any given time becau se of special opportunities for progress and impact. The Federal portfolio, however, must remain broad-based and accommodate the high-risk investments that may have enormous long-term impact. It is increasingly evident that the major fields of science a nd engineering mutually catalyze one another - strengthening the fabric of science and, with it, the entire science and technology enterprise. By advancing all frontiers of knowledge, creative American scientists and engineers, along with their students, enrich the present and shape the future.


The diversity of Federal sources of basic research funding, and the variety of institutions and organizations conducting the research contribute to U.S. leadership across the scientific frontiers spanned by the Federal scientific and technical research portfolio.


In this time of constrained resources, some have argued that less emphasis should be placed on basic research, since its results are typically available to anyone in the world. Japan, for example, h as developed strong market positions for some products, particularly consumer electronics, for which American scientists did much of the original research and development. The Administration rejects this simplistic argument. The dominance of our basic res earch enterprise is a core American strength that must be preserved. This enterprise, in addition to producing new knowledge that is indeed appropriable by others, generates the physical and human infrastructure that underlies our national innovation syst em and our society's resourcefulness in the face of rapid technological change.


We also must remember that basic research repays society in the near term through newsworthy discoveries that inspire our children and society at large. This ability to uncover and understand nature 's secrets is a uniquely human accomplishment. Only the Federal government can supply the truly "patient capital" for the long-term investment in basic research.


The human infrastructure - creative scientists and engineers, trained at the research frontier and able to move boldly in response to new opportunities and challenges - positions America at the fore front of the "brainpower industries" of the future. Such industries - high technology, health-care technology and biotechnology, business technologies, multimedia technologies, and others - increasingly support expansion of our export economy. America's e conomic resilience, as demonstrated in the rapid recovery of our leadership in semiconductors over the last five years, is clearly tied to our strength in science and technology, especially the basic and applied research capacity and human capital that sp ring from our research universities. Indeed, it is noteworthy that Japan's decision to dramatically increase research funding emphasizes strengthening its research universities.


Competitive advantages clearly accrue to nations fashioning the future through investments that return new, basic knowledge. Although our total investment in non-defense research and development rem ains the highest in the world, it is only 75 percent that of Japan and 85 percent of Germany's as a fraction of Gross Domestic Product (GDP). We must not let our position erode and thus compromise our future.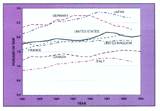 The nondefense R&D/GDP ratios of both Japan (2.7 percent) and Germany (2.4 percent) considerably exceeded that of the United States (2.0 percent) in 1993 and have done so for years. The nondefense R&D ratio of France matched the ratio of the Un ited States; the ratios of the United Kingdom (1.9 percent), Canada (1.5 percent), and Italy (1.3 percent) were somewhat lower.

---