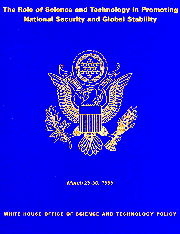 White House Forum on the Role of Science and Technology
in Promoting National Security and Global Stability
March 29-30, 1995
---
This forum sought open discussion of our nation's ability to most effectively organize and use our science and technology enterprise to support:
Defense Policy -- enhancing national security through investment and cooperation in defense science and technology.
Nonproliferation of weapons of mass destruction -- reducing the threat of proliferation through cooperation and improved monitoring, assessment and prevention.
Economic prosperity -- strengthening the contribution of investments in science and technology to advancing U.S. participation in global markets.
Sustainable development -- strengthening the capacity of societies to achieve economic stability and growth without compromising the ability of future generations to meet their own needs; mitigating physical and societal stresses that contribute to civil conflict.
---
White Papers
---
Session Addresses
---
---