National Science and Technology Council (NSTC)
Committee on Technology
The Interagency Working Group on Nanoscience, Engineering and Technology (IWGN)
Nanotechnology
Shaping the World Atom by Atom
---
This report was prepared under the guidance of NSTC/CT. Any opinions, conclusions or recommendations expressed in this material are those of the authors, and do not necessarily reflect the views of the U.S. Government or individual funding agencies.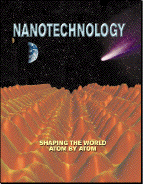 Brochure (2.1 Mb)
---
Related Documents
---
National Science and Technology Council
1600 Pennsylvania Ave,N.W
Washington, DC 20502
202.456.6100
Information@ostp.eop.gov





---
To comment on this service, send feedback to the Web Development Team.