The Fellowship's education program augments and amplifies the work experience. Fellows meet informally with experts in fields both in and outside the realm of their job assignments. These off-the-record sessions generally take place over breakfast or lunch during the work week. Discussions are frank and lively.
Last year's class, for example, met with over 100 individuals including Supreme Court Justices, Cabinet Secretaries, senior White House officials, Members of Congress, military leaders, journalists, historians, business executives, and foreign heads of state.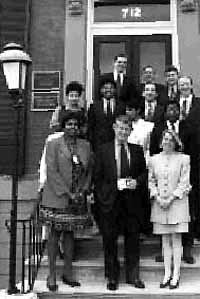 As part of the educational program, Fellows also travel to other major U.S. cities, domestic military bases, and foreign countries to talk with locals about conditions and concerns which shape policy-making and problem-solving.
Fellows have flown onto an aircraft carrier, learned about life at sea, and then catapulted off. They've walked with community leaders through diverse neighborhoods in L.A. and New York City. A recent fellowship class visited Seattle where they toured the assembly floor at Boeing and had coffee with Starbucks CEO Howard Schultz. On a visit to Miami, the Fellows rose before dawn with cutters in the sugarcane fields. White House Fellows have flown over the Panama Canal in helicopters, witnessed the end of apartheid in South Africa and the crumbling of the wall in Berlin, and explored ethnic tensions in Greece, Turkey and Cyprus.

---