Today, just as in President Roosevelt's time, the public sees the beautiful official rooms used by the First Family. But behind the scenes are hardworking ushers, housekeepers, valets, butlers, engineers, gardeners, and groundkeepers who perform the necessary duties that enable the White House to welcome nearly 6,000 tourists every day, to host numerous official guests, and to help the First Family carry out its responsibilities.
[Chief Usher] | [Executive Pastry Chef] | [Executive Housekeeper]
[White House Butler] | [Engineer] | [White House Calligrapher]

n average day for the Residence staff begins around 6:00 a.m. While most of the nation's capital is just waking up, these men and women are already busy at work, ready to welcome the day's many visitors and ensure that official events go smoothly. Upon arrival, most check in at the Usher's Office, the office responsible for overseeing all activities that take place within the Executive Residence.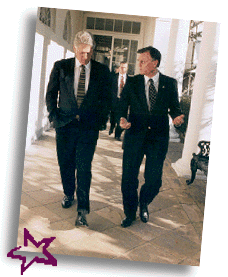 Chief Usher Gary Walters briefs President Clinton as they walk to the Oval Office.

Since 1986, Gary Walters has been the White House's Chief Usher. While Mr. Walters has seen changes in staff and witnessed First Families come and go, one thing always remains the same -- no matter who occupies the Oval Office, his staff is completely loyal to the President and to the First Family. "Each day is challenging and rewarding," says Mr. Walters. "One of the most rewarding things is being able to learn what the families are like -- without having to read about it in the newspaper or hear it on television." It is also thrilling to watch history being made in the house that is at the center of the public's attention. "Each day when I come through the gate, it is a thrill. I guess when that thrill fades, it will be time to leave."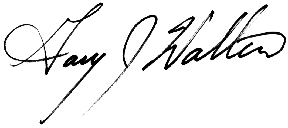 ould a visit to your local hardware store help you find the perfect tools to bake a beautiful cake? It could if you plan to follow in the footsteps of White House Executive Pastry Chef Roland Mesnier. Mr. Mesnier's small but efficient kitchen is stocked with such items as feathers (perfect for making icing look like marble), wood-grain rubber stamps (to make chocolate trees), modeling clay (for a chocolate mold of a former President, perhaps?), and brake line pipe (ideal for blowing sugar into creations mimicking the finest blown glass). All are necessary tools for an artist whose materials include spun sugar, milk chocolate, and whipped cream, just to name a few!

It is not unusual for Mr. Mesnier and his Assistant Pastry Chef, Franette McCulloch, to be asked to make dessert for more than 200 people. Imagine if you and your friends were asked to make cookies for 200 kids at your school -- that would be more than 16 dozen cookies! Everything prepared in the pastry kitchen is original; no recipe is ever repeated, and no cookbooks are ever used.

In 1993, as the White House began preparations for the numerous visitors who would come to view the holiday decorations, Mr. Mesnier and Ms. McCulloch were busy at work drafting the initial designs for their most difficult creation of the year -- the highly anticipated gingerbread house.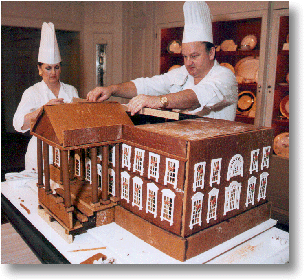 Executive Pastry Chef Roland Mesnier and Assistant Pastry Chef Franette McCulloch carefully construct the White House ... in gingerbread!

In all, nearly 200 hours were devoted to designing and building the house, with 40 hours dedicated to construction alone. That year, in honor of President Clinton's first Christmas in office, the gingerbread house was an exact replica of the White House. With chocolate gluing together some 120 pounds of gingerbread, the entire house was completely edible and had to be carried into the State Dining Room by six people!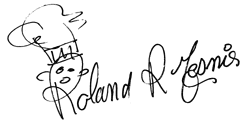 White House Ginger Cookies

1 1/2
cups flour
1/2
teaspoon salt
1
teaspoon ginger
1
teaspoon allspice
1
teaspoon baking soda
1
teaspoon baking powder
(rounded)
1
teaspoon nutmeg

1
teaspoon cinnamon
1
large tablespoon solid shortening
6
teaspoons butter
1
cup sugar
1
egg (or 2 if small)
1/2
cup molasses
Additional sugar, as garnish

xecutive Housekeeper Christine Limerick has been at the White House for 12 years. And while you'll never see her traveling by horse-drawn carriage down Pennsylvania Avenue, you might find her, like Elizabeth Jaffrey, in a local store picking up a necessary item for the White House. But you're more likely to see Mrs. Limerick and her staff busily working to keep the Executive Residence spotlessly clean. And if you've ever toured the mansion, you've seen the results of that hard work in every room. Imagine cleaning a house that welcomes nearly 6,000 visitors each day!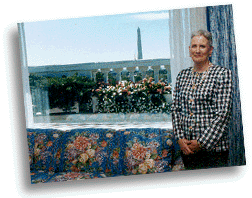 Executive Housekeeper Christine Limerick stands beside the beautiful view of Washington, D.C., from the Solarium of the White House.

As soon as the last tourist leaves the State Floor, the flurry of activity begins. Ropes used to help guide the tourists are taken down, rugs rolled up in the morning are laid down again, carpets are vacuumed, furniture and walls are dusted, marble is mopped and buffed, and brass is polished. Once again, the White House is ready for the next day's historic events.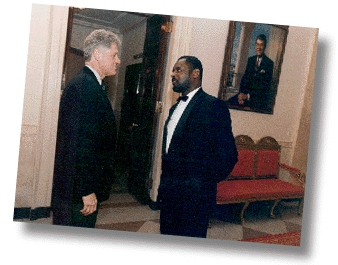 President Clinton visits with
White House Butler William
"Buddy" Carter.

ike many Americans, William "Buddy" Carter begins his day when he picks up the morning paper and gets ready for breakfast. However, Mr. Carter isn't collecting the paper to read with his morning coffee. Instead, he is picking it up from the Usher's Office so he can deliver it to the President of the United States.

Mr. Carter is one of six butlers who help keep the White House running perfectly. He began his career in public service at Blair House, the residence near the White House where foreign dignitaries stay while visiting the President. Mr. Carter worked at Blair House for 15 years before coming across the street to work at the Executive Mansion.

No two days are alike for the White House butlers, and no two visitors have the same needs and interests. Imagine handing a cup of tea to a famous celebrity in the afternoon and then serving dinner to a foreign leader in the evening! Yet Mr. Carter's grace and style enable him to perform his varied duties with ease.

On the occasion of a State Dinner, when the First Family hosts a visiting dignitary, Mr. Carter's day begins early and ends late. He and the other butlers begin setting up tables in the State Dining Room first thing in the morning. Hundreds of china plates, cups, saucers, and pieces of silverware are brought up from storage, unpacked, and carefully placed on the tables. Napkins are folded, centerpieces are placed on tables, and carpets are vacuumed. Late in the afternoon, the butlers change into their formal tuxedos. After the President and First Lady greet each visitor in the receiving line, guests are seated in the State Dining Room. The President and the guests at his table are seated last, and the President makes a formal toast. During this time, Mr. Carter and the other butlers are busy behind the scenes, preparing to serve the first of the four dinner courses.

Mr. Carter loves his job at the White House and considers it an honor to be a part of history. "Very few people are selected to work here, and I'm one of the few," he says. "It's a wonderful feeling."


White House tour with Brian Rock won't take you through any of the mansion's stately rooms, but rather will wind you through an endless maze of tunnels and pipes. As an engineer, Mr. Rock works out of an office located two floors under the White House's main floor. There, in the only Residence office that operates 24 hours a day, Mr. Rock is in charge of the heating and cooling systems. On his desk sits a computer that allows him and the other engineers to read the temperature in any room in the White House. With so much activity going on in the house every day, and so many historic antiques and works of art to protect, it is important to carefully control the temperature in each room at all times.

Like any other house, the White House sometimes experiences plumbing problems or has appliances that need repair. Mr. Rock and others are responsible for resolving such problems without disrupting the First Family, the public tours, or the staff members who work in the building.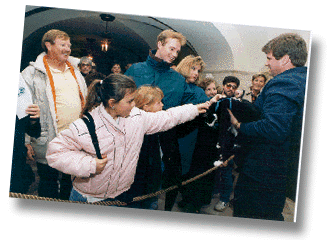 Engineer Brian Rock takes time out
of his busy day to introduce Socks
to some White House visitors.

Mr. Rock's duties have allowed him to strike up a friendship with a special member of the First Family -- Socks! Soon after President Clinton came into office, Mr. Rock spotted Chelsea's cat, Socks, and they quickly became friends. Mr. Rock and Socks are often seen together when Mr. Rock is taking his lunch break. He remembers one particular day during the holiday season of 1996. When Chelsea was studying for school, he helped Mrs. Clinton take Socks to visit a children's hospital in Washington, D.C. "It was a great feeling to be able to bring so much joy to kids who were sick," said Brian. "I knew it was something they would never forget, and neither would I."

t's likely that you won't find a "D" in penmanship on the report cards belonging to White House calligrapher Rick Muffler, a third generation White House employee. Rick's grandfather was President Warren G. Harding's chauffeur, and his father, John Muffler, has been a staff member for more than 50 years. As a youngster, Mr. Muffler made frequent visits to the White House with his father. He was well known by the staff and even met several Presidents. When he was just 8 years old, Mr. Muffler made a model of California for President Nixon. Later, his father brought him to work to meet the President. President Nixon leaned over to him and said, "It's nice to have another Richard in the White House."

On a typical day, you might find Rick Muffler penning the descriptions of delicacies for a State Dinner menu, inscribing the name of an honoree to receive the Presidential Medal of Freedom, or printing the name of a new Presidential Appointee on an official document. He is the only left-handed calligrapher at the White House.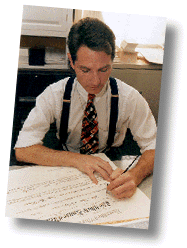 White House Calligrapher
Rick Muffler sharpens his skills
on an official presidential
document.

When an assignment is extremely urgent, he reaches under his desk and pulls out a hair dryer to speed the drying of the ink on the paper. He has 28 pen holders and 8 brushes (tools used for large lettering), and so many nibs (special points for the ends of his pens) that he can't even begin to count them all! Mr. Muffler begins each project by making numerous pencil lines on the paper to center the text from top to bottom; then, he uses tracing paper to practice. Finally, by visually centering from left to right, his steady hand begins to flow gracefully across the page until another masterpiece is finished.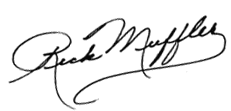 ---
[Back to Fall 97] | [Back to Previous Issues]