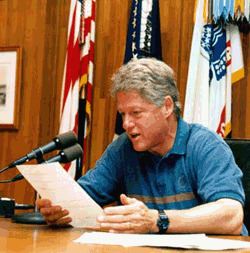 President Clinton gives his weekly Radio Address from Camp David.
Camp David

Located 70 miles from the White House in the Catoctin Mountains of Maryland, Camp David was established in 1942 as a place for the President to relax and entertain. President Franklin Delano Roosevelt wanted to escape the summer heat of Washington, D.C., and the higher altitude of the Camp provided cool breezes and good security. President Roosevelt called the Camp "Shangri-La" after the mountain kingdom in James Hilton's book Lost Horizon. It was renamed Camp David in 1953 by President Eisenhower in honor of his grandson.
The Camp is operated by Navy personnel, and troops from the Marine Barracks in Washington, D.C., provide permanent security. Marine One carries the President during the half-hour helicopter ride from our Nation's capital. Guests at Camp David can enjoy a pool, putting green, driving range, tennis courts, gymnasium, and the many guest cabins -- Dogwood, Maple, Holly, Birch, and Rosebud, to name a few. The presidential cabin is called Aspen Lodge.

Camp David has been the site of many historic international meetings. It was there, during World War II, that President Franklin Roosevelt and British Prime Minister Winston Churchill planned the Allies' invasion of Europe. President Jimmy Carter also chose the site for the meeting of Middle East leaders that led to the Camp David Accords between Israel and Egypt.