Art For the President's House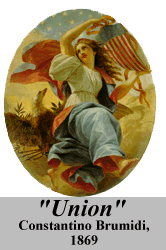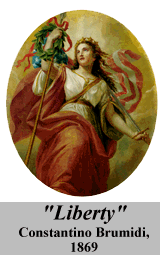 Symbolic of a nation reunited, "Union" (above left) and "Liberty" (above right)adorn the ceiling of the White House Entrance Hall. Italian-born Constantino Brumidi painted then in 1869, during the term of Ulysses S. Grant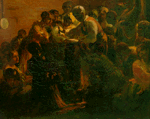 Torch flare highlights a hand-held pocket watch, the focal point of William Tolman Carlton's "Watch Meeting-Dec 31st 1862-Waiting for the Hour" The scene shows slaves on the eve of January 1st, 1863. They are anticipating midnight, when Abraham Lincoln's Emancipation Proclamation would take effect.

Theatrical use of light and shadow imbues Albert Bierstadt's "Rocky Mountain Landscape" with drama. This painting was added to the collection 1981. Several Bierstadt landscapes hung at the White House in the 1880's, but were removed after Congress failed to fund their purchase.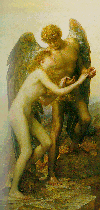 The controversial "Love and Life" by George Fredrick Watts, was banished from the house in 1895. It returned occasionally until 1932, its appearances dependent upon public taste and mores.