---
The 1996 White House Easter Egg Roll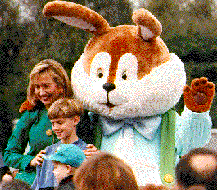 ---
On Monday, April 8, the traditional Egg Roll takes place on the White House South Lawn. Events on the lawn are open only to children between the ages of three and six. Children must be accompanied by at least one adult. The South Lawn is open from 10 a.m. until 2 p.m.
In order to minimize waiting in one long line to enter the South Lawn, free, timed tickets are distributed by the National Park Service on a first-come, first-served basis. Each person, even the smallest child, requires a ticket to enter the South Lawn. Ticket distribution, at the Visitor Pavilion on the Ellipse (the park area south of the White House) begins at 7 a.m. and continues until all tickets are gone. No advance tickets are available. It should not be necessary to spend much time in line. Lawn chairs, food, coolers, or chewing gum are not permitted on the South Lawn.
Our theme in 1996 is education and learning. Entertainers include Craig and Company, the Battersby Duo, Cathi & Marci, the Family Singers, Gould & Stearns, and the Parachute Express. Other Stage entertainment includes the Cabaret Troupe, Gary Rosen, Joni Bartels, the Puzzle Place Puppets, Robb the Drummer and the D.A.R.E. celebrity kids Raven Symone, Bryton McClure, Taran Noah Smith, Michael Fishman and Mara Wilson. Cabinet Secretaries will make appearances throughout the day while the Great Train Store sets up a model train and Easter Village. K'Nex shows models of famous Washington buildings and Paas demonstrates American Easter traditions. The National PTA joins American Greetings to feature an area where children can share with the President their ideas on "Why I love to read."
Most of the entertainment is located on the South Lawn, while some is on the Ellipse to entertain those waiting in the current-time ticket line.
To accommodate the festivities, E Street is closed down between 15th and 17th Streets. On-street parking is not available near the White House and use of public transportation is strongly encouraged. The recommended Metrorail stations are Metro Center (blue, orange, and red lines), and Federal Triangle (blue and orange lines). Public telephones are not available at the White House; the nearest ones are in the Visitor Pavilion on the Ellipse.
In case of inclement weather, all events are canceled and not rescheduled.
For the most up-to-date information on this, or other public events at the White House, please call the Visitors Office 24-hour Special Events line at 202-456-2200.
The Annual Easter Egg Roll at the White House is a wonderful tradition which The President and Mrs. Clinton hope you and your family will enjoy.
Click here for a map of the White House area.
---