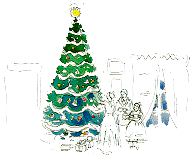 The Parlors

The GREEN ROOM, inspiration for the 1996 White House Christmas card, is used for small teas and receptions. Throughout the year, the renowned portrait of Benjamin Franklin by David Martin, which hangs above the fireplace, is a highlight of this charming room. During the holidays, the mantel decoration becomes a focal point, and this year the mantels in both the Green Room and Red Room were designed and decorated under the direction of the accomplished holiday artist, Christopher Radko, with assistance from a number of American artists and craftsmen, including the costume department of the New York City Ballet.

The Green Room mantel was inspired by the winter beauty of the Sugar Plum Fairy and her Cavalier. It glistens with shades of antique pink and wedgwood blue, and sparkles with the spirit of snowflakes, sprites and fairies.

The Official White House Tree, an 18'6" Colorado Blue Spruce from the Scheetz Tree Farm in Coshocton, Ohio, resides in the BLUE ROOM. It was presented to the President and Mrs. Clinton by Kenny and Joann Scheetz and family who won the honor by being named the 1996 National Grand Champion Growers by the National Christmas Tree Association.

The decorations on the tree come from three distinct and talented groups: regional and professional ballet companies contributed ornaments which represented their own performances of "The Nutcracker" ballet, wood craft artisans created ornaments depicting scenes or characters from the ballet, and members of the American Needlepoint Guild and the Embroiderers Guild of America stitched holiday stockings to hang on the tree. The green velvet handmade tree skirt was designed by individuals from each of the 50 states, territories and the District of Columbia, in celebration of the Clinton family's first holiday at the White House.

In the RED ROOM, which is furnished in classic American Empire style, is the second of the Christopher Radko mantelpieces, its inspiration was the opening act of "The Nutcracker," in which the children celebrate around the Christmas tree. Along with characters from the ballet, look for figures from American History, including George Washington and Abraham Lincoln. The centerpiece of this holiday confection is a candy castle covered with sweets.