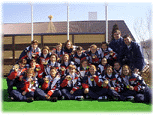 Gold Medal winning U.S. Women's Ice Hockey team in Olympic Village.

[Enlarged]

The U.S. is celebrating the first ever Olympic Gold medal in Women's Ice Hockey! I had the chance to meet the young women who made Olympic history yesterday in Nagano's Olympic Village. We talked about what a moment in time this was and how their lives would be forever changed. Their excitement and enthusiasm was so contagious that delegation member Herbie Hancock staged an impromptu jazz concert in for the athletes in the cafeteria.
I couldn't help but think, as I watched this exuberant group of young women, of how much women's role in athletics has evolved. Their victory, on the heels of the Gold medal performance of the Women's Softball Team in Atlanta during the 1996 Summer Games, signals that finally, women's team sports have arrived at the Olympic Games.
But it wasn't always this way. For many years, women stood on the sidelines as the men competed.


Team Captain Cammie Granato holds up her medal for a close-up.


[Enlarged]


In 1896, during the first official Olympic Games, held in Athens, what was then an all-male festival had a bit of a surprise. A woman named Stamata Revides decided to compete. In March of 1896, she did a trial run from Marathon to Athens in a time of 4 hours 30 minutes that was officially documented. But the Athens Olympic Organizing Committee barred her from running the Olympic marathon. It was almost a century later that the woman's marathon took its place in the history of the modern Olympic Games, when American marathon runner Joan Benoit won the race with a time of 2 hours 24 minutes 52 seconds.

Like the marathon, it has been a long road through history for women Olympians. Those who blazed the trail among our American women athletes have taken their place in the history books: Babe Didrickson, Wilma Rudolph, Tenley Albright, Peggy Fleming, Mary Lou Retton, Kerri Strug, Bonnie Blair, Dot Richardson.

It took many years to overcome the attitude that sports wasn't "ladylike." Even then, it took federal legislation -- Title IX -- to overcome biases in the U.S. educational system. Before Title IX took effect in 1972, an estimated 300,000 young women participated in interscholastic athletics nationwide. Today, approximately 2.25 million women participate in sports and that number is growing.

Studies have shown a long list of benefits derived from girls participating in sports and physical fitness, including reducing the risk of obesity, enhancing mental health and boosting self-confidence and self-esteem.

If participation is one important milestone, representation is another equally important step towards greater equity. As more women begin to serve in administrative positions in both professional and amateur sports, the opportunities and interest will continue to expand.


Dr. Tenley Albright, the first U.S. woman to medal in figure skating, poses with Tara Lipinski of the 1998 U.S. Women's Figure Skating team.


[Enlarged]
That's beginning to happen. Three new professional sports leagues led by women made their debuts in 1997 -- the ABL, WNBA and Women's Pro Fastpitch. Last September, the first woman senior International Olympic Committee (IOC) member in the U.S., Anita DeFrantz became the first to be elected IOC Vice President in its 102 year history.
And, the good news for women athletes is the growing recognition among American fans that women, indeed, can play. Audience interest leads to corporate sponsorship which is, for many sports and athletes, a necessity to survival.
As we celebrate the accomplishments of our women athletes in Nagano, and as we watch with awe the speed and power and grace of Cammie Granato and Picabo Street and Michelle Kwan, let's remember those who helped pave the way. And, let's ensure that all our future athletes, male and female, have the chance to play, to compete, and maybe, one day, to fulfill their Olympic dream.